A list of Scotland Cathedrals to Visit with Websites, Images, Postcodes, Telephone Numbers and links to Maps and Reviews.
A Cathedral is a Christian Church that contains the seat of a Bishop, it has nothing to do with the size of the building, although most Bishops have their seats in the largest Churches in their area. History at the bottom of the page.
Click on Post-Codes for Maps, Directions and Reviews.
Cathedral of The Isles / Millport / Isle of Cumbrae, built 1849. George Frederick Boyle, 6th Earl of Glasgow, funded the building of this Episcopal Cathedral and commissioned William Butterfield for the design. Butterfield was one of the top architects of the Gothic revival. Construction finished in 1849 and the cathedral opened in 1851. This is claimed to be one of the smallest Cathedrals in Europe. Phone number 01475 530 353.
Web . UDS Page . KA28 0HE . Image
Dornoch Cathedral 43 miles north of Inverness, built 1239. From 1222, Gilbert de Moravia, first Bishop of Dornoch, a relation of the Earls of Moray, built Dornoch Cathedral at his own expense. In 1570, it was set on fire and Gilbert's tomb was desecrated during a clan feud between the Murrays of Dornoch, and the Mackays of Strathnaver. The Cathedral was partially restored in 1616 by Sir Robert Gordon, and finished in 1837 by Elizabeth, Duchess-Countess of Sutherland to serve as a Protestant Presbyterian Church. Tel: 01862 810 296.
Website . RS Page . IV25 3HN
Dunblane Cathedral 6 miles north of Stirling at Dunblane. Built 1200s, restored 1889. Dunblane Cathedral was built on the site of a Christian building first constructed by Saint Blane around the year 600. This is one of the few surviving medieval churches in Scotland. The Cathedral fell into disrepair during the reformation. It was restored in 1898 to serve as a Protestant Church of Scotland. Phone number 01786 825 388.
Website . RS Page . FK15 0AQ
Dunkeld Cathedral 14 miles north of Perth at Dunkeld. Built from 1325 - 1501. A church in Dunkeld has been at this location from the 600s. Work on the present building began in 1325, completed in 1501. The original cathedral was destroyed in the 1500s, during the reformation. Only part of the Cathedral has been re-roofed, to serve as a Protestant Church of Scotland parish church. There is a Chapter House Museum that displays relics from monastic and medieval times. Tel: 01350 727 249.
Website . RS Page . PH8 0AW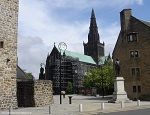 Glasgow Cathedral 1 mile east of Glasgow centre, late 1200s. Glasgow Cathedral's site dates to about AD550, when St Mungo, also known as St Kentigern, built a small church here. Glasgow Cathedral was built from the late 1200s, and survived destruction during the reformation 1560 - 1791. Glasgow Cathedral now serves as the Protestant Church of Scotland's Presbytery of Glasgow, so is not now a true Cathedral. Tel: 0141 552 8198.
Website . RS Page . G4 0QZ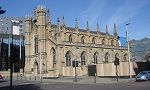 St Andrew's Cathedral in Glasgow centre built 1814. The Cathedral Church of Saint Andrew is a Roman Catholic Cathedral designed in 1814 by James Gillespie Graham, in the Neo Gothic style. It is the seat of the Archbishop of Glasgow, conducting regular services each day. Can be visited free of charge between services. St Andrew's had to be built after the end of the reformation, as the historic Glasgow Cathedral had been converted to a Protestant Church. Phone number 0141 204 2409.
Website . RS Page . G1 4JY . Image
St Giles' Cathedral Edinburgh / Royal Mile. Built from 1100s, rebuilt from 1385. St Giles' Cathedral is now the main Protestant Church of Scotland in Edinburgh, it only served as a Cathedral, was the seat of a Bishop, in the 1600s. The Cathedral is thought to have been built from the 1100s, and had to be rebuilt after a fire in 1385. Today, it is one of the top attractions in the city of Edinburgh. Phone number 0131 225 9442.
Website . RS Page . EH1 1RE . Image
St Machar's Cathedral 2 miles north of Aberdeen centre. Built from 1165 - 1530. The earliest parts of St Marchar Cathedral were built on this site in about 1165. The cathedral was extended over time, until completed to its present form in 1530. A place of worship has been on this site since about 580 AD. The church here became a Cathedral in the 1130s, the seat of a Bishop. During the reformation, St Machar's was converted to a Protestant Church of Scotland, so is no longer a true Cathedral. Phone number 01224 485 988.
Website . UDS Page . AB24 1RQ
St Magnus Cathedral Kirkwall / Orkney Islands, built 1137. St Magnus Cathedral was built from 1137 by the Norse Earl Rognvald. The Orkney isles were under control of the Norse until they were taken over by King James III of Scotland in 1468. The reformers failed to damage this cathedral in the 1560s, so it was converted to a Church of Scotland soon after. Phone number 01856 874 894.
Website . UDS Page . KW15 1NX
St Mary's Cathedral 1.4 miles southwest of Edinburgh centre. The foundation stone was laid on the 21st May 1874 by the Duke of Buccleuch and Queensberry. The Nave of the Cathedral was opened on the 25th January 1879. St Mary's was built as the main Episcopal Protestant Cathedral in Edinburgh, as the historic St Giles Cathedral had been used as a Protestant Presbyterian Church since the reformation of 1560. Presbyterian churches do not have bishops. Phone number 0131 225 6293.
Website . RS Page . EH12 5AW
St Mary's Catholic Cathedral in Edinburgh centre. The earliest parts of the cathedral were completed in 1814 with extensions and redesigns being carried out up to the 1970s. This is the mother church of Scots Catholicism that Pope John Paul II visited in May 1982. Phone number 0131 556 1798.
Website . Wiki Page . EH1 3JD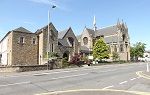 St Ninian's Cathedral Perth in the centre of Perth. The main section of the cathedral was completed in 1850 as a Scottish Episcopal Protestant Cathedral that has Bishops. The building has been enlarged over the years up to 1936. The cathedral had restoration work carried out all through 2017. Tel: 01738 632 053.
Website . UDS Page . PH1 5PP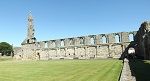 St Andrews Cathedral in the centre of St Andrews. Built from 1158 as the largest Church / Cathedral ever built in Scotland. Abandoned and fell into ruin in the late 1500s after the Reformation made Catholic worship illegal. Tel: 01334 472 563.
Website . RS Page . KY16 9QL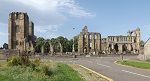 Elgin Cathedral in the centre of Elgin. Built from 1224 as the second largest Church / Cathedral built in Scotland, after St Andrews. Abandoned in the late 1500s after the Reformation, with the large central tower collapsing in 1711 during a storm, taking much of the Cathedral with it. Tel: 01343 547 171.
Website . RS Page . IV30 1HU
Christianity began in Scotland from 563, after Columba traveled to the Isle of Iona from Ireland to build Iona Abbey. Catholic Christianity was the main religion in Scotland with some huge Abbeys and Cathedrals being built from the 1100s - 1500s. The Reformation Act in 1560 made Catholic Christianity in Scotland illegal, replacing it with Protestant Christianity. Many of the Abbeys and Cathedrals were damaged around that time, with some converted to serve as Protestant Churches.
From the Scottish Reformation of 1560, until the Roman Catholic Relief Act of 1791, Roman Catholics in Scotland had to worship covertly. New Catholic Cathedrals were built after this time.
After the Scottish Episcopal Protestant Church was legally established in the 1800s, new Cathedrals were built for this faith as well as they have Bishops. The only true Cathedrals in Scotland now, were built from the early 1800s.
Most Historic Scotland Cathedrals now serve as Church of Scotland Presbyterian Protestant Churches, so are not now true Cathedrals, as they are not the seat of a Bishop.