List of Scotland Attractions to Visit with Websites, Images, Postcodes and links to Maps and Reviews. Telephone numbers are added where possible.
These Scotland Top Attractions are other than Cities, Towns, Abbeys, Castles, Cathedrals, and Mansions. View the home page for these.
Click on the Postcodes for a Map showing each attraction and allows A to B directions.
The RS Pages have links to Large Sunny Images.
Arranged in order south to north.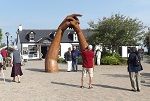 Gretna Green
On the border with England. Gretna Green and Gretna have been used for runaway weddings to the Famous Blacksmiths since the 1700s. There is now a a very popular Museum and Visitor Centre. Tel: 01461 338 441.
Website . RSPage . DG16 5EA . Image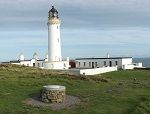 Mull of Galloway Experience
Furthest south point in Scotland. In the southwest of Scotland with a Lighthouse for tours and Cafe / Restaurant perched on cliffs. The area is now a top attraction, remote and peacful with amazing views. Tel: 01776 840 554.
Website . RS Page . DG9 9HP . Image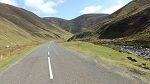 Wanlockhead
51 miles north of Gretna Green, highest Village/Town in Scotland at 1,531 ft with a Lead Mining Museum, Visitor Centre, Cafe, Inn for meals, Gold Panning, and Heritage Railway. The Mennock Pass up to the village from the west is one of the top hill roads in Scotland. Tel: 01659 743 87.
Website . RS Page . ML12 6UT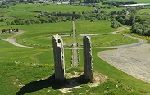 Crawick Multiverse
10 miles west of Wanlockhead via the Mennock Pass by the village of Sanquhar. A huge modern Stone Art Work with a stone circle, amphitheatre, avenue, and high point for great views. Tel: 01659 502 42.
Website . RS Page . DG4 6EG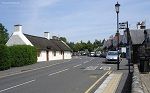 Burns Museum
In Alloway village 38 miles southwest of Glasgow by Ayr town. Scotland's most famous Poet born in 1759. His Cottage has been preserved as a Museum, and a large modern Visitor Centre built in this extremely scenic village . Tel: 01292 443 700.
Website . AS Page . KA7 4PQ . Image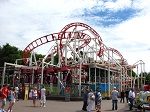 Scotland's Theme Park M&Ds
12 miles southeast of Glasgow. White Knuckle rides, many kids' rides, 18 hole Miniature Golf, massive indoor complex including a gigantic Soft Play Area, bars and restaurants. Tel: 01698 333 777. Large Images
Website . Wiki . ML1 3RT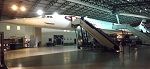 National Museum of Flight
23 miles east of Edinburgh. Housed in the wartime buildings of RAF East Fortune with collections covering military, civil and recreational aircraft. Concorde is one of the latest aircraft to be displayed. Tel: 0300 123 6789.
Website . RS Page . EH39 5LF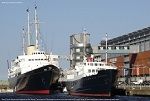 Royal Yacht Britannia
Port of Leith by Edinburgh. Now permanently berthed at Ocean Terminal, in Edinburgh's port of Leith, you can visit and explore this famous former royal residence. Tel: 0131 555 5566.
Website . UDS . EH6 6JJ . Image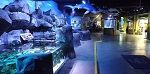 Deep Sea World
At North Queensferry 14 miles north of Edinburgh below the Forth Rail Bridge with large sand tiger sharks and a 112 meter long transparent acrylic underwater viewing tunnel, one of the longest of its kind in the world. Tel: 01383 411 880.
Website . RS Page . KY11 1JR
The Falkirk Wheel
On the west side of Falkirk in Central Scotland. A rotating boat lift connecting the Forth and Clyde Canal with the Union Canal with a visitor centre, short canal boat tours using the lift and a number of attractions for children such as paddle boats and bumper boats. Tel: 0870 050 0208.
Website . RS Page . FK1 4RS . Image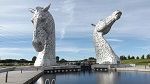 The Helix & Kelpies
On the east side of Falkirk. 90ft high horse head sculptures next to the Forth and Clyde Canal with a cafe, many walks/cycle lanes, kids play areas, splash play, lagoon and more. The horse sculptures are in memory of the many heavy horses that worked on the canal. Tel: 01324 590 600.
Website . RS Page . FK2 7ZT . Image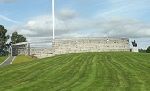 Battle of Bannockburn
At Stirling in the South Highlands. This is the site of the most historic battle in Scotland in 1314, between the Scots and English. The site has a visitor centre, large circular memorial, and statue of King Robert the Bruce. Tel: 01786 812 664.
Website . RS Page . FK7 0LJ . Image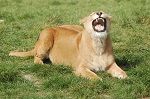 Blair Drummond Safari Park
5 miles northwest of Stirling. Scotland's only African Safari Park with a drive-through reserve, a boat safari, areas you can walk around, or you can take a a free safari bus. Tel: 01786 841 456. Large Images
Website . Wiki . FK9 4UR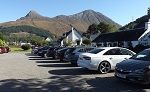 Glencoe
16 miles south of Fort William, most scenic road in Scotland through mountains with viewing areas, ski centre, visitor centre, and a scenic village with the McDonald Massacre Monument.
RS Page . PH49 4HS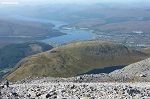 Ben Nevis
Visitor centre and path 2 miles southeast of Fort William. The highest Mountain in the British Isles with a good Mountain Track from the Glen Nevis visitor centre with the summit at 4,408 ft above sea level. Novice walkers following the Tourist Path take about 4 to 5 hours to reach the summit, about 3 hours to get back down. Tel: 01349 781 401.
Web . PH33 6PF . 57 Large Images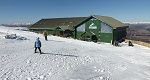 Nevis Range
5 miles east of Fort William on Aonach Mor Mountain. A Gondola runs to the Top Station throughout the year for skiers, mountain bikers and tourists at 2,150ft. Tourists can use the Gondola to visit the Snowgoose Restaurant, bar and kids play at the top station. You can hike to the top from the restaurant up to 4,000ft. Regular buses run between Fort William and the Nevis Range. Tel: 01397 705 825.
Website . PH33 6SQ . 54 Large Images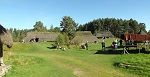 Highland Folk Museum
16 miles south of Aviemore by Newtonmore village. Britain's first Open Air Museum showing what life was like in Scotland from the 1300s to 1900s. An old Village at the Museum has been used in the TV series Outlander. Tel: 01349 781 650.
Website . RS Page . PH20 1AY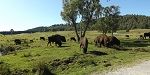 Highland Wildlife Park
9 miles south of Aviemore by Kingussie village. A safari park and zoo with a variety of animals found in present day Scotland, and animals that were once present thousands of years ago. Visitors can drive round the Main Park in their cars, then can visit a walk round area. Tel: 01540 651 270.
Website . RS Page . PH21 1NL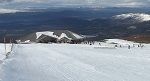 Cairngorm Mountain
10 miles southeast of Aviemore. In the Gairngorms National Park at 4084 ft, the sixth highest mountain in the United Kingdom. Scotland's top ski resort was developed here from 1960 and the Cairngorm Mountain Railway opened in 2001. The top station has a Visitor Centre and Restaurant with some of the best views in Scotland. The top Ptarmigan Station is at approximately 3,599 ft. Tel: 1479 861 261. Video .
Web . RS Page . PH22 1RB . Images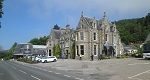 Loch Ness Monster Exhibition
14 miles south of Inverness at Drumnadrochit, the main place next to Loch Ness to learn about the Loch Ness Monster with a large Visitor Centre and boat tours with sonar so you can go on a trip to find Nessie. The scenic Urquhart Castle is situated next to the village. Regular buses run from Inverness all day. Tel: 01456 450 573.
Website . RS Page . IV63 6TU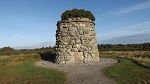 Culloden Moor
7 miles east of Inverness where the last battle took place on British soil. The Battle of Culloden was the final battle of the 1745 Jacobite Rising, taking place on the 16th April 1746. Between 1,500 and 2,000 Jacobites were killed or wounded in the battle, government losses were about 50 dead and 259 wounded. Tel: 01463 796 090.
Website . RS Page . IV2 5EU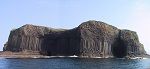 Fingals Cave
Island of Staffa off the Isle of Mull west coast. This is the Scotland end of the Giants Causeway in Northern Ireland. Its struture is unique with a sea cave formed by hexagonall shaped basalt. You can enter the 227 foot cavern via a walkway. Large Images
Website . Hotels . Video . Map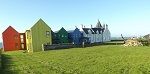 John O Groats
Furthest north point in Scotland about 393 miles by road north of the Mull of Galloway, 837 north of Lands End in Cornwell in England. A rugged coast with an Inn, Lodges, Camping/Touring, and Boat Tours along the Coast and to the Orkney Isles.
Website . RS Page . Hotels . KW1 4YR