Below is a List of Dive Centres and Dive Charter Boats in Scotland.
Click on the PostCodes for Maps and Directions.
Aquatron Dive Centre training & equipment sales only Glasgow. We have built up our expertise, facilities and experience, and have aquired all the best agencies for the quality dive gear you want to have. Tel: 0141 4297 575.
Website . G41 1JB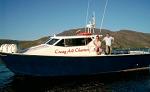 Creag Ard Charters Camusnagaul & Ullapool, Northwest Scotland. Specialise in scuba diving trips to many famous wrecks, underwater caves and wall dives that are found around the Summer Isles, Loch Broom and Gruinard area. Tel: 01854 633 380 Mobile: 07715 075 460
Website . Map.
Deep Blue Scuba Edinburgh. An Edinburgh based PADI 5 star IDC SCUBA diving centre with schedule courses to meet your time requirements. Dives include Wolf Fish, at St. Abb's, with as many as 4 seen on a single dive. Snorkelling with dolphins on a trip to the Small Isles, and the scenery on the islands. Tel: 07904 139 259.
Website . EH14 1UT
Deep Sea World Shark Dives, North Queensferry by Edinburgh. An underwater experience of a lifetime with a Shark Dive here and you'll be swimming with one of nature's most amazing predators. Our large Underwater Safari is home to one of Europe's largest collections of sharks. Tel: 01383 411 880.
Website . KY11 1JR
Dive Bunker Firth of Forth, Burntisland by Edinburgh. Diving in the Firth of Forth is one of the best wreck diving sites in the UK. If new to diving we can introduce you to an exhilarating underwater world in a safe and friendly environment. If your qualified, you can join us on one of the many dives from our base in Burntisland. Telephone - 01592 874 380.
Website . KY3 9BS
Dive & Sea the Hebrides, Island of Skye. Skye is the largest of the Inner Hebridean Islands with some of the finest British diving available. Dive & Sea the Hebrides is the perfect island location for an expedition. Tel: 01470 592 219.
Website . IV55 8GA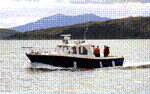 Flying Eagle Charters , Largs, Western Scotland. Now closed.
Map
Lochaline Dive Centre, Lochaline, Western Scotland. Situated in the small village of Lochaline, 44 miles west of Fort William on the West Coast of Scotland. Our mainland position on the Sound of Mull is a unique location with a range of technical diver courses certified by the IANTD. There are a number of wrecks in the area for diving on. Tel: 01967 421 627.
Website . PA80 5XT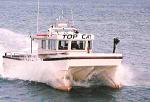 Moray Diving, Moray Firth by Inverness. As well as diving on wrecks in the area, this is one of the top places for the world's most northerly bottlenose dolphins. At times, there are also common dolphins, porpoises, minke whales, pilot whales and orca. Tel: 07807 497 706.
Website . IV30 6SA
Porpoise Diving by Oban, Western Scotland. Based near Oban, Argyll in the Firth of Lorne, an area of Conservation. Porpoise Diving offer the best way to experience some of Scotlands top dive sites. Catering for all abilities, our dive sites include underwater pinnacles, drift dives, reefs and wrecks. Tel: 01852 300 203.
Website . PA34 4TR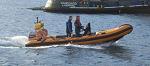 North East Dive Banff, on the Moray Firth, Northeast Scotland. Scuba dive courses from beginners to advanced with dive trips to the far northwest of Scotland, air fill station, guided dives, equipment servicing and repair. Tel: 07817 800 502.
Website . AB45 2YX

Scapa Flow Diving Holidays Orkney Isles, Northern Scotland. M.V. Invincible operates out of Stromness as a liveaboard or day boat, taking divers to the wrecks of Scapa Flow. We also offer trips to Shetland, the East Coast and as far west as St Kilda. Telephone 01856 851 110.
Website . KW16 3BH
Scapa Scuba Stromness, Orkney Isles, Northern Scotland. From a complete beginner to an experienced diver, dive Scapa Flow with Scapa Scuba, Orkney's only PADI Dive Centre. Home to the German High Seas Fleet that was scuttled here on the 21st June 1919, Scapa Flow is one of the best dive sites in the world. Tel: 01856 851 218.
Website . KW16 3DA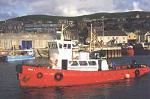 The Diving Cellar, Stromness, Orkney Isles, Northern Scotland. Closed. KW16 3AA