Below is a list of all Isle of Skye Hotels in Scotland with Websites, Phone Numbers, Images and links to Maps and Reviews.
Many top Skye hotels now offer the best deals on their own website, or through a booking agency, this website allows you to compare deals.
Portree is the largest town on the Isle of Skye. The main ferry link is from the fishing village of Mallaig on the west coast of Scotland with about 8 crossings per day, 30 minute crossing time to the village of Armadale which is situated on the south side of the island, 42 miles south of Portree.
Since October 1995, Skye has also been linked to mainland Scotland by The Skye Bridge
Click On Map for the top Attractions and Mountains.
Attractions List for the top attractions.
VS = Visit Scotland Assessed . AA = Automobile Association Assessed . SC = Self Classified Click on Post-Codes for Reviews, Maps & best Booking Offers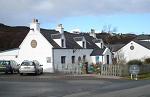 Three Chimneys Restaurant with Rooms
SC 5 Star, 23 miles northwest of Portree by Loch Dunvegan. A Restaurant with Rooms at Colbost in the remote, north-west corner of Skye. Tel: 01470 511 258.
Website . Postcode: IV55 8ZT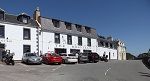 Bosville Hotel & Restaurant
SC 4 Star, 0.2 of a mile east of Portree centre on Bosville Terrace. A quality hotel with stress free accommodation with many rooms overlooking Portree harbour. Superb, award winning cuisine. Tel: 01478 612 846.
Website . Postcode: IV51 9DG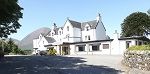 Broadford Hotel & Restaurant
SC 4 Star, 25 miles south of Portree at the village of Broadford on Torrin Road. Overlooking Broadford Bay with first class service in stylish accommodation. Tel: 01471 822 204.
Website . IV49 9AB . Large Image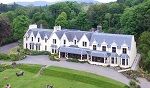 Cuillin Hills Hotel & Restaurant
VS 4 Star, 0.6 of a mile north of Portree centre. Some of the most spectacular views from any hotel in Scotland, in fifteen acres of mature private grounds overlooking Portree Bay. Tel: 01478 612 003.
Website . Postcode: IV51 9QU
Duisdale House Hotel & Restaurant
SC 4 Star, 33 miles south of Portree between the Skye Bridge and ferry port from Mallaig. This Hebridean hotel was built in 1865 as a Hunting Lodge, now a privately owned chic boutique retreat. Tel: 01470 373 737.
Website . Postcode: IV43 8QW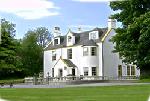 Greshornish House Hotel & Diner
SC 4 Star, 17 miles northwest of Portree at Edinbane. On a secluded loch side area surrounded by 10 acres of its own gardens and woodland grounds, amongst the spectacular scenery between Portree and Dunvegan Castle. Tel: 01470 582 266.
Website . Postcode: IV51 9PN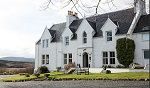 Kinloch Lodge
SC 4 Star, 32 miles south of Portree at Sleat. Nestling at the foot of Kinloch Hill, only fifteen minutes from the Skye Bridge at Kyleakin, or twenty minutes from the landing point of the Mallaig to Armadale ferry. Tel: 01471 833 333.
Website . Postcode: IV43 8QY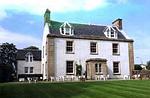 Marmalade House Hotel & Diner
SC 4 Star, 0.3 of a mile northwest of Portree centre on Home Farm Road. A recent refurbishment has created a lovely interior inside this old Georgian building. Rooms overlook the village of Portree, the loch and out towards the Cuillin Mountains. Tel: 01478 611 711.
Website . Postcode: IV51 9LX

Skeabost Country House Hotel & Restaurant
SC 4 Star, 6 miles northwest of Portree at Skeabost Bridge. Situated in private grounds on the edge of Loch Snizort. Originally built as a hunting lodge it is steeped in history and has an enchanting period feel with its open fires. Surrounded by a 9-hole golf course and a salmon and trout river. Tel: 01470 532 202.
Website . Postcode: IV51 9NP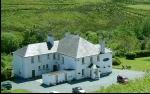 Toravaig House Hotel & Restaurant
SC 4 Star, 37 miles south of Portree at Knock Bay, Sleat. A stylish, contemporary country house hotel with magnificent views over the sea to the mainland. Tel: 01471 820 200.
Website . Postcode: IV44 8RE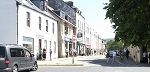 Caledonian Hotel
SC 3 Star, in the centre of Portree on Wentworth Street. Free private car park at the rear of the hotel. Tel: 01478 612 641.
Website . Postcode: IV51 9EJ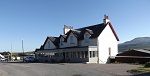 Dunvegan Hotel & Restaurant
SC 3 Star, 21 miles west of Portree by Dunvegan. Situated on the Duirinish peninsula with views directly on to Dunvegan Loch and the flat tops of MacLeod's Tables mountain range. Tel: 01470 521 497.
Website . Postcode: IV55 8WA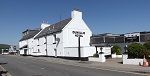 Dunollie Hotel
SC 3 Star, in the centre of Broadford 25 miles south of Portree with views over Broadford Bay, 84 en suite bedrooms, bar and restaurant. Tel: 01471 822 253.
Website . Postcode: IV49 9AE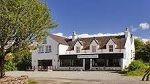 Edinbane Inn
SC 3 Star, in the quiet village of Edinbane 14 miles northwest of Portree with a modern, informal restaurant, bar, and 6 newly refurbished rooms, all with en-suite facilities. Tel: 01470 582 414.
Website . Postcode: IV51 9PW

Eilean Iarmain Hotel & Restaurant
SC 3 Star, 35 miles south of Portree at Sleat. Traditional hotel in an idyllic setting with spectacular views across the sound of Sleat to the Knoydart Hills. Tel: 01471 833 332.
Website . Postcode: IV43 8QR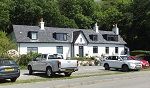 Ferry Inn
SC 3 Star, in the village of Uig 15 miles northwest of Portree, 1800s refurbished inn with restaurant, bar and rooms. Tel: 01470 542 300.
Website . Postcode: IV51 9XP

Hame Hotel
SC 3 Star, 17 miles west of Portree by Dunvegan. Situated 3 miles south of Dunvegan castle, in the beautiful north-west of Skye with panoramic views of MacLeod's Tables and the Cuillins. Ideally situated for touring the whole island. Tel: 01470 521 488.
Website . Postcode: IV55 8GZ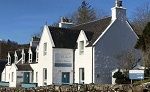 Inn at Aird a Bhasair
SC 3 Star, 42 miles southwest of Portree at Sleat. Built in the early 1800's, making it one of the oldest hotels on Skye, overlooking the Sound of Sleat and the magnificent Knoydart Mountains beyond. Approximately 800 metres from Armadale, where the ferry from Mallaig brings you "Over the sea to Skye". Tel: 01471 844 223.
Website . Postcode: IV45 8RS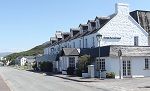 Kings Arms Hotel
SC 3 Star, in the village of Kyleakin by the Skye Bridge, 33 miles south of Portree, 81 en suite bedrooms, most with stunning views. Tel: 01599 534 109.
Website . Postcode: IV41 8PH

Isle of Skye Guest House
SC 3 Star, 32 miles southwest of Portree at Kyleakin. The first hotel you reach after crossing from the Scottish mainland on the new connecting bridge, with an unrivalled location on this historic island of Skye. Tel: 01599 263 102.
Website . Postcode: IV41 8PQ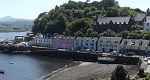 Pier Hotel
SC 3 Star, in Portree on Quay Street overlooking the Harbour, free WiFi and a cosy bar diner popular with locals and visitors. Tel: 01478 612 094.
Website . Postcode: IV51 9DE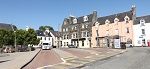 Portree Hotel
SC 2 Star, in the centre of Portree overlooking the market square, 24 en-suite rooms with flat screen TVs, tea, coffee, hairdryers, irons, Antlers Bar and Grill, and West Highland Bar. Tel: 01478 612 511.
Website . IV51 9EH . Large Image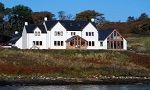 Redwood House Hotel
SC 3 Star, 17 miles northwest of Portree overlooking Loch Greshornish, 17 rooms and restaurant with views over the loch. Tel: 01470 582 203.
Website . Postcode: IV51 9NP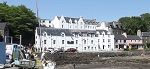 Rosedale Hotel & Restaurant
SC 3 Star, 0.1 of a mile southwest of Portree centre at The Harbour. Originally houses inhabited by the fishermen of Portree, some dating as far back as the reign of William IV. Changes over the years have made this into a modern, comfortable hotel. Tel: 01478 613 131.
Website . Postcode: IV51 9DF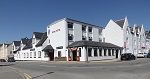 Royal Hotel & Restaurant
VS 3 Star, 0.1 of a mile southwest of Portree centre at The Harbour. Overlooking the harbour in Portree with high standards in comfort and style. Tel: 01478 612 525.
Website . Postcode: IV51 9BU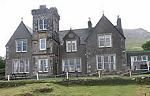 Sconser Lodge Hotel & Diner
SC 3 Star, 13 miles south of Portree at the small village of Sconser. Built in 1871 as a hunting lodge for the MacDonalds with a central location making it an ideal base for exploring the whole of Skye, or the Isle of Raasay, a short ferry trip away. Tel: 01478 650 333.
Website . Postcode: IV48 8TD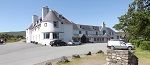 Sligachan Hotel
SC 3 Star, 9 miles south of Portree at Sligachan Bridge overlooking the amazing Cuillin Mountains with a number of hiking and walking trails, 21 rooms and the large Seumas' Bar for dining. Tel: 01478 650 204.
Website . IV47 8SW . Large Image
Tongadale Hotel
SC 2 Star, in the centre of Portree on Wentworth Street, 25 rooms and restaurant with the main shopping area next to the hotel. Tel: 01478 612 115.
Website . Postcode: IV51 9EJ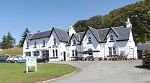 Uig Hotel & Restaurant
VS 3 Star, 14 miles northwest of Portree at the small village of Uig. You can relax in complete comfort and sample wonderful Scottish hospitality with some of the best scenery in Scotland. Uig sits above Uig Bay on the Trotternish peninsula. All but three of the eighteen rooms offer fantastic views of the bay and surrounding area. Tel: 01470 542 205.
Website . IV51 9YE . Large Image