All Orkney Islands Hotels
Below is a list of all Orkney Islands Hotels in Scotland with Websites, Phone Numbers, Images and links to Maps and Reviews
Kirkwall is the largest town on the Isles of Orkney. The main Ferry Routes are from Aberdeen on the east coast mainland and Caithness, John o Groats and Scrabster on the north coast mainland.
Orkney is also an excelent location for fishing and diving. The Scapa Flow naval base is a haven for divers as it is where the German High Seas Fleet was intered at the end of World War One. All these huge ships were scuttled June 21st 1919. Many of those ships were raised for scrap but some remain in Scapa Flow where they can be seen by diving or on a Boat Trips.
The 3 battleships remaining in Scapa Flow are all Konig class vessels, which fought at the "Battle of Jutland" as part of the 3rd Battle Squadron. Now laying near to the Island of Cava, the SMS Konig, SMS Kronprinz Wilhelm and SMS Markgraf are probably the most accessible battleship dives in the world. All 3 vessels are of a similar size - they are huge ships weighing approx. 26000 tonnes.
Car hire companies on Orkney : www.driveorkney.com, www.orkneycarhire.co.uk, and www.europcar.co.uk.
For information on coach trips to Orkney and mini bus trips around the islands, visit travel/coachtoursorkney . Orkney Websites
VS = Visit Scotland Assessed . AA = Automobile Association Assessed . SC = Self Classified
Click on Post-Codes for Reviews, Maps & Booking Offers may be available
Foveran Hotel & Restaurant VS 4 Star, 3 miles southwest of Kirkwall at St. Ola.A family-run hotel and restaurant for accommodation on the Orkney Mainland, an ideal base to further explore the splendour of Orkney. Tel: 01856 872 389.
Website . Postcode: KW15 1SF
Lynnfield Hotel & Restaurant SC 3 Star, on the south side of Kirkwall on Holm Road. We cater for all tastes, so please visit our web site and plan what you would like to do when you are in Orkney. Tel: 01856 872 505.
Website . Postcode: KW15 1SU
Sands Hotel & Restaurant VS 4 Star, 12 miles south of Kirkwall in Burray Village. Situated ON the shore of Scapa Flow with all rooms en suite and overlooking the beach and pier with l ocal fishermen. Our restaurant is open daily serving lunches, bar meals and a la carte. The hotel is completely non-smoking. Tel: 01856 731 298.
Website . Postcode: KW17 2SS
Standing Stones Hotel & Restaurant VS 4 Star, 11 miles west of Kirkwall at Stenness. Overlooking the Loch of Stenness, an ideal starting point for exploring all of Orkney. The views over the loch are stunning, and at midsummer the sunsets are magnificent. Tel: 01856 850 449.
Website . Postcode: KW16 3JX
Albert Hotel & Restaurant VS 3 Star, in the centre of Kirkwall on Mounthoolie Lane. All the local shops, St. Magnus Cathedral and Earls Palace are close by. Ferries to the outer North Isles is only a five minute walk away. Tel: 01856 876 000.
Website . Postcode: KW15 1JZ
Ayre Hotel & Restaurant SC 3 Star, in the centre of Kirkwall on Ayre Road. Overlooking Kirkwall harbour, ideal for looking around the mainland, or hop on a ferry and visit the isles, you are never more than twenty miles from the hotel. Tel: 01856 873 001.
Website . Postcode: KW15 1QX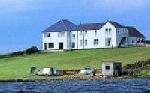 Barony Hotel & Diner SC 3 Star, 20 miles northwest of Kirkwall at Birsay. A family run hotel on the shores of the Boardhouse Loch in Birsay. Most of our rooms are en suite and all have tea/coffee making facilities. We have a large lounge bar from which we serve our extensive supper menu. Tel: 01856 721 327.
Website . Postcode: KW17 2LS
Kirkwall Hotel & Restaurant SC 3 Star, in the centre of Kirkwall on Harbour Street. A prominent landmark on the Kirkwall waterfont, one of Orkney's finest Victorian buildings. 37 en-suite rooms, 3 function rooms, spacious restaurant, relaxing lounge bar and lively public bar. Tel: 01856 872 232.
Website . KW15 1LE . Large Image
Merkister Hotel & Restaurant SC 3 Star, 11 miles northwest of Kirkwall at Harray. On the shores of Harray Loch, the hotel stands in its own grounds with impressive views of this famous loch and its surroundings, 15 minute drive from the main towns of Kirkwall and Stromness. Tel: 01856 771 366.
Website . KW17 2LF . Large Image
Orkney Hotel & Restaurant VS 3 Star, in the centre of Kirkwall on Victoria Street. A 17th Century hotel that has been sympathetically renovated, retaining many of its original features and its charm. Tel: 01856 873 477.
Website . Postcode: KW15 1DN
Royal Hotel & Restaurant SC 3 Star, 15 miles west of Kirkwall at Stromness. A small family run hotel in the centre of Stromness with the Haven Restaurant, The Hudson Lounge, The Function Room and The Public Bar. Tel: 01856 850 342.
Website . Postcode: KW16 3BS
Smithfield Hotel & Restaurant VS 3 Star, 13 miles northwest of Kirkwall in the village of Dounby. The restaurant is open daily along with the public bar and a quiet TV lounge. Tel: 01856 771 215.
Website . Postcode: KW17 2HT
Stromabank Hotel & Restaurant SC 3 Star, 21 miles southwest of Kirkwall at Longhope. On a hill with uninterrupted views of the Orkney Isles and over the Pentland Firth to mainland Scotland. The Conservatory Restaurant and elegant Public Bar provide the perfect venue for wining and dining. Tel: 01856 701 494.
Website . Postcode: KW16 3PA
Stromness Hotel & Restaurant SC 3 Star, 15 miles southwest of Kirkwall at Stromness. Overlooking the picturesque harbour in Stromness with comfortable accommodation and finest Orkney produce in our Scapa Flow restaurant. Tel: 01856 850 298.
Website . KW16 3AA . Large Image
The Shore - Rooms Restaurant & Bar SC 3 Star, in the centre of Kirkwall. Double, twin or single rooms, and loft suites. All have en-suite shower rooms wit the premier rooms being larger with front facing windows. Tel: 01856 872 200.
Website . Postcode: KW15 1LG
West End Hotel & Diner VS 3 Star, in the centre of Kirkwall on Main Street. Comfortable guest rooms, each with a shower-only bathroom. The property has been refurbished with a now fresh and inviting blend of old and new to cater to all tastes. Tel: 01856 872 368.
Website . Postcode: KW15 1BU
Balfour Castle Hotel VS 5 Star, 5 miles north of Kirkwall at Shapinsay. Oak panelled rooms, log fires and comfortable bedrooms with beautiful Victorian furniture and antiques. A perfect central location for touring the Orkney Archipelago. May now be a private home.
Website . KW17 2DY . Large Image