Below is a list of all Inverness Hotels in Scotland with Websites, Phone Numbers , Images and links to Maps , Top Restaurants and Reviews.
The centre of Inverness is regarded by most people as the area around the Train Station.
Inverness Area Click on Map for Top Attractions & Mountain Hiking.
Inverness Attractions list with websites, maps and reviews.
Also listed are links to B&Bs , Self Catering and the top Inverness Websites.
VS = Visit Scotland Assessed . AA = Automobile Association Assessed . SC = Self Classified
Click on Post-Codes for Reviews, Maps & best Booking Offers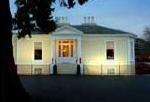 Rocpool Reserve Hotel & Restaurant
SC 5 Star, 0.7 of a mile south of Inverness Train Station on Culduthel Road. Exclusive modern and elegant, Inverness's first boutique hotel and restaurant. In the centre of the city just a few minutes walk from Inverness castle. Tel: 01463 240 089.
Website . Postcode: IV2 4AG
Ness Walk Hotel & Restaurant
SC 5 Star, 0.8 of a mile southwest of Inverness Train Station on Ness Walk. Situated on the banks of the River Ness within private woodland gardens of 2 acres, only a short walk from Inverness City Centre. Hotel may be being extended. Tel: 01463 215 215.
Website . Postcode: IV3 5SQ
Bunchrew House Hotel & Restaurant
VS 4 Star, 3 miles west of Inverness Train Station at Bunchrew. Set within 20 acres of landscaped gardens and woodland on the shores of the Beauly Firth near Inverness, a 17th century Scottish mansion steeped in tradition and history. Tel: 01463 234 917.
Website . Postcode: IV3 8TA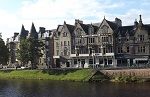 Columba Hotel & Restaurant
AA 4 Star, 0.4 of a mile southwwest of Inverness Train Station on Ness Walk. The Columba Hotel is situated on the River Ness across from Inverness Castle, only a few minutes walk to the city's shopping amenities.. Tel: 01463 231 391.
Website . IV3 5NF . Image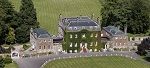 Culloden House Hotel
SC 4 Star, 4 miles northeast of Inverness Train Station at Culloden. Used by Bonnie Prince Charlie as his battle headquarters for that fateful and final battle on Culloden Moor. Today, this luxury hotel has about 40 acres where you are free to wander. Tel: 01463 790 461.
Website . Postcode: IV2 7BZ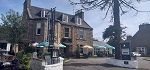 Glenmoriston Town House Hotel
SC 4 Star, 0.6 of a mile south of Inverness Train Station on Ness Bank. Close to Inverness city centre with views of the River Ness, with a renowned French restaurant, luxurious bedrooms and stylish yet practical meeting rooms & highland wedding facilities. Tel: 01463 223 777.
Website . Postcode: IV2 4SF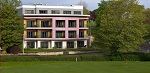 Kingsclub and Spa
SC 4 Star, 0.8 of a mile southeast of Inverness Train Station on Culcabock Road. A country treat minutes from Inverness centre. Tel: 01463 257 160.
Website . Postcode: IV2 3LP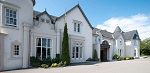 Kingsmills Hotel
SC 4 Star, 0.8 of a mile southeast of Inverness Train Station on Culcabock Road. In a quiet corner of Inverness, the ideal place to help you make the most of your stay. Tel: 01463 237 166.
Website . Postcode: IV2 3LP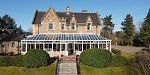 Lochardil House Hotel
SC 4 Star, 2 miles south of Inverness Train Station on Stratherrick Road. A castellated house built in 1876, set in attractive gardens with mature pines. Tel: 01463 235 995.
Website . Postcode: IV2 4LF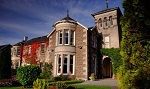 Loch Ness Country House Hotel & Restaurant
SC 4 Star, 3 miles southwest of Inverness Train Station on Loch Ness Road. A haven of tranquility, comfort and excellent food. Surounded by six acres of beautiful gardens. Tel: 01463 230 512.
Website . Postcode: IV3 8JN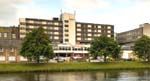 Mercure Inverness Hotel & Restaurant
SC 4 Star, 0.1 of a mile west of Inverness Train Station on Church Street. The modern Mercure Inverness hotel is situated on the banks of the River Ness, 200 metres from Inverness Train Station. Tel: 01463 548 111.
Website . Postcode: IV1 1QY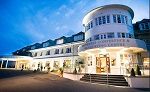 Macdonald Drumossie Hotel & Restaurant
SC 4 Star, 3 miles southeast of Inverness Train Station on Old Perth Road. A listed art deco building in 9 acres of manicured private grounds, ideal for a relaxing weekend break, or a romantic wedding in the Scottish countryside. Tel: 01463 236 451.
Website . Postcode: IV2 5BE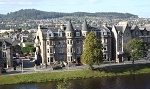 Palace Hotel & Spa
AA 4 Star, 0.4 of a mile southwest of Inverness Train Station on Ness Walk. An 88 bedroom classic, yet contemporary hotel with a 50ft swimming pool and superb leisure club. Tel: 01463 223 243.
Website . IV3 5NG . Large Image
River Ness Hotel, a member of Radisson Individuals
SC 4 Star, in the centre of Inverness on Church Street. Bright and airy bedrooms, interactive flat-screen TV 49" with free pay-per-view channels, work desk, Internet access and en suite. Tel: 020 3868 8668.
Website . Postcode: IV1 1QN
Strathness House Hotel
SC 4 Star, 0.6 of a mile southwest of Inverness Train Station on Ardross Terrace. A Victorian townhouse overlooking the River Ness and the Inverness Castle. Tel: 01463 232 765.
Website . Postcode: IV3 5NQ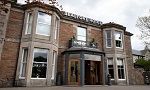 Beaufort Hotel & Restaurant
SC 3 Star, 0.7 of a mile south of Inverness Train Station on Culduthel Road. Traditional comfort and a great welcome, popular with both business and tourist guests. With popular bars, restaurant, function and conference facilities. Tel: 01463 700 008.
Website . Postcode: IV2 4AG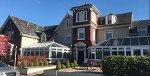 Chieftain Hotel
SC 3 Star, 0.6 of a mile northeast of Inverness Train Station on Millburn Road. Extensively refurbished with modern public areas. Food and drink are served in the two conservatories. Tel: 01463 232 241.
Website . Postcode: IV2 3PS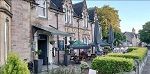 Corriegarth Hotel & Restaurant
SC 3 Star, 0.8 of a mile southeast of Inverness Train Station on Heathmount Road. The hotel has the Taboo restaurant and a stylish Sports bar with plasma screens and new contemporary decor. Tel: 01463 242 730.
Website . Postcode: IV2 3JU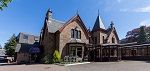 Craigmonie Hotel & Restaurant
SC 3 Star, 0.9 of a mile southeast of Inverness Train Station on Annfield Road. Independantly run highland hotel with 35 well appointed en-suite bedrooms ranging from single rooms to superior doubles/twins, suites to special four poster rooms. Tel: 01463 231 649.
Website . Postcode: IV2 3HX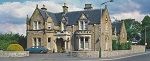 Crown Court Townhouse Hotel & Restaurant
SC 3 Star, 0.8 of a mile south of Inverness Train Station on Southside Road. Tastefully renovated, welcoming & comfortable with a Bar and Restaurant. Tel: 01463 832 444.
Facebook . Postcode: IV2 3BG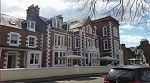 Glen Mhor Hotel & Apartments
SC 3 Star, 0.6 of a mile south of Inverness Train Station on Ness Bank. High quality of accommodation and excellent standards of service and hospitality make The Glen Mhor a popular destination for short breaks and weekend breaks. Tel: 01463 234 308.
Website . Postcode: IV2 4SG
Heathmount Hotel & Restaurant
SC 3 Star, 0.5 of a mile southeast of Inverness Train Station on Kingsmills Road. A friendly and stylish boutique hotel that used to be a Highland Inn, dating from 1868, with a long tradition of warm Scottish hospitality. Tel: 01463 235 877.
Website . Postcode: IV2 3JU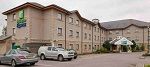 Holiday Inn Express Inverness
SC 3 Star, 2 miles east of Inverness Train Station at Stoneyfield Business Park. A modern Holiday Inn Express that is a pleasant base for your trip with wireless Internet in all guest rooms. Tel: 0371 902 1615.
Website . Postcode: IV2 7PA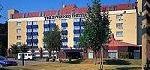 Leonardo Hotel & Restaurant
SC 3 Star, 1 mile east of Inverness Train Station on Millburn Road formerly Jurys. Within easy reach of Loch Ness, this 118 room hotel is an ideal base to tour the many Highland attractions. Tel: 01463 252 525.
Website . Postcode: IV2 3TR
pentahotel
SC 3 Star, 0.2 of a mile southwest of Inverness Train Station on Academy Street. A modern Inverness hotel with great value accommodation and meeting facilities. Tel: 01463 228 850.
Website . Postcode: IV1 1LU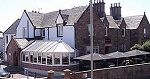 Redcliffe Hotel & Restaurant
SC 3 Star, 0.5 of a mile south of Inverness Train Station on Gordon Terrace. Resident parking, intuitive menus, slick professional service, knowledgable local staff and a great location. Tel: 01463 232 767.
Website . Postcode: IV2 3HD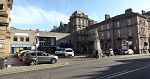 Royal Highland Hotel & Restaurant
SC 3 Star, 0.1 of a mile south of Inverness Train Station on Academy Street. One minute from the train station, in the vibrant and modern Highland capital of Scotland, a friendly, welcoming, real Scottish hotel of character and charm. Tel: 01463 231 926.
Website . IV1 1LG . Image
The Kings Highway- a JD Wetherspoon Hotel
SC 3 Star, 0.2 of a mile northwest of Inverness Train Station on Church Street. A Wetherspoon hotel ideally located in the city centre with 27 individual bedrooms, all en suite and include tea- and coffee-making facilities, hair dryer and TV. FREE Wi-Fi is available in the bar area. Tel: 01463 251 800.
Website . IV1 1EN . Image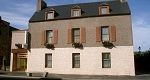 MacDougall Clansman Hotel
VS 2 Star, 0.2 of a mile northwest of Inverness Train Station on Church Street. A small hotel with a central location ideal for easy access to local transport and city centre attractions, services and organised tours. Tel: 01463 713 702.
Website . Postcode: IV1 1ES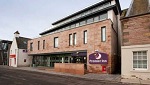 Premier Inn Inverness Centre
SC 3 Star, 1 mile east of Inverness Train Station on Huntly Street. Panorama views of the River Ness and Inverness Castle, and great attractions close by. Tel: 0333 321 9235.
Website . Postcode: IV3 5PR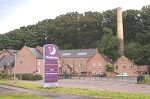 Premier Inn Inverness Millburn Road
SC Budget, 1 mile northeast of Inverness Train Station on Millburn Road. High speed internet access is available in this hotel by WiFi for a small fee. Dinner, or a light bite, you'll enjoy great value food in our restaurant.Tel: 0333 003 1736.
Website . Postcode: IV2 3QX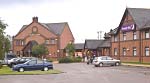 Premier Inn Inverness east
SC Budget, under 2 miles east of Inverness Train Station at Beechwood Business Park. Situated in a business park, a great base for work as well as play. Tel: 0333 003 1737.
Website . Postcode: IV2 3BW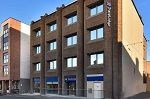 Travelodge Inverness City Centre
SC Budget, in Inverness centre on Academy Street a short walk from the train station. An on-site restaurant and bar serves breakfast and evening meals. Tel: 0871 984 6519.
Website. Postcode: IV1 1LU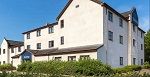 Travelodge Inverness Hotel
SC Budget, 2 miles east of Inverness Train Station on Inverness Road. Free Parking available at the rear of the property with 72 spaces. Tel: 0871 984 6148.
Website. Postcode: IV2 7PA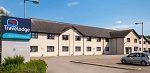 Travelodge Inverness Fairways Hotel
SC Budget, 3 miles south of Inverness Train Station at Castle Heather. Free Parking with 80 spaces. Tel: 0871 984 6285.
Website. Postcode: IV2 6AA
Glendruidh House Hotel
SC 4 Star, 2 miles southeast of Inverness Train Station on Old Edinburgh Road. Seems to be For Sale.
Postcode: IV2 6AR