Dumfries & Galloway Country Hotels
A list of Country Hotels in Dumfries & Galloway in Scotland with Websites, Phone Numbers, Images and links to Maps and Reviews.
Also listed are links to B&Bs, Self Catering & Tour for Large Images.
VS = Visit Scotland Assessed . AA = Automobile Association Assessed . SC = Self Classified
Click on Post-Codes for Reviews, Maps & Booking Offers may be available.
Auchen Castle Hotel & Restaurant VS 5 Star, 3 miles west of Moffat in a country estate. A reputation for excellent service, great cuisine and a unique setting. Tel: 01683 300 407.
auchencastle.net . DG10 9SH
Blackaddie House Hotel & Restaurant VS 4 Star, 27 miles northwest of Dumfries on the outskirts of the small village Sanquhar. Set in its own Gardens on the Banks of the River Nith. Tel: 01659 502 70.
blackaddiehotel.co.uk . DG4 6JJ
Cally Palace Hotel & Restaurant SC 4 Star, 1.4 miles south of Gatehouse of Fleet in a country estate. Enjoy exclusive use of the 18 hole Cally Palace Golf Course, walk, cycle or use the Hotel's indoor leisure complex. Tel: 01557 814 341.
mcmillanhotels.co.uk . DG7 2DL
Dryfesdale Hotel & Restaurant VS 4 Star, 2 miles north of Lockerbie. Situated in acres of magnificent grounds with stunning views of the beautiful countryside. Tel: 01576 202 427.
dryfesdalehotel.co.uk . DG11 2SF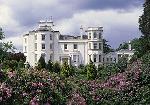 Kirroughtree House & Restaurant SC 4 Star, 1.4 miles east of Newton Stewart centre. An ideal retreat, with elegant public rooms, and excellent food is served the award winning restaurant. Tel: 01671 402 141.
Website . DG8 6AN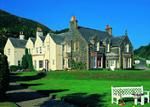 Knockinaam Lodge Hotel & Restaurant SC 4 Star, 2 miles south of Portpatrick. At the southern end of a fairly remote, yet very accessible area with remarkable scenery. One of Scotland's finest small hotels. Tel: 01776 810 471.
knockinaamlodge.com . DG9 9AD
Trigony Country House Hotel & Restaurant SC 4 Star, 13 miles northwest of Dumfries in over four acres of secluded gardens and mature woodland, with a welcoming ambience of a country house hotel. Tel: 01848 331 211.
trigonyhotel.co.uk . DG3 5EZ
Balcary Bay Hotel & Restaurant VS 3 Star, 9 miles south of Castle Douglas. The Hotel has views across the Solway coast towards the majestic peaks of the Cumbrian Lake District. Tel: 01556 640 217.
balcary-bay-hotel.co.uk . DG7 1QZ
Cavens Country House Hotel & Restaurant VS 3 Star, 11 miles south of Dumfries. Cavens is set in six acres of peaceful, beautifully landscaped private gardens, a gem of a small country house hotel. Tel: 01387 880 234.
cavens.com . Postcode: DG2 8AA
Clonyard House Hotel SC 3 Star, 18 miles south of Dumfries by the village of Dalbeattie. A small family run hotel that caters for visitors to the area and the many local guests for meals and drinks. Tel: 01556 630 372.
clonyardhotel.co.uk . DG5 4QW
Comlongon Castle Hotel & Restaurant SC 3 Star, 8 miles southeast of Dumfries off the A75. A restored 14th Century Medieval Castle, Wedding Venue and luxurious Baronial Hotel. Tel: 01387 870 283.
comlongon.com . Postcode: DG1 4NA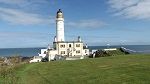 Corsewall Lighthouse Hotel & Restaurant SC 3 Star, 11 miles northwest of Stranraer in a spectacular coastal location. A hotel with a difference. Tel: 01776 853 220.
Website . DG9 0QG . Image
Cressfield Country House Hotel & Restaurant SC 3 Star, 6 miles south of Lockerbie in the small village of Townfoot. Just a couple of miles from the M74 motorway, with a warm and friendly service. Tel: 01576 300 281.
cressfieldhotel.co.uk . DG11 3DR
Friars Carse Country House Hotel SC 3 Star, 7 miles northwest of Dumfries. In 45 acres of woodland extending to the banks of the River Nith, the hotel, with private sea trout, grayling and salmon fishing. Tel: 01387 740 388.
friarscarse.co.uk . DG2 0SA
Galloway Arms Hotel & Restaurant SC 3 Star, 9 miles west of Dumfries in the small village of Crocketford. An historic coaching inn with friendly service, outstanding cuisine and warm atmosphere. Tel: 01556 690 248.
gallowayarmshotel.co.uk . DG2 8RA
Hetland Hall Country House Hotel & Restaurant SC 3 Star, 10 miles southeast of Dumfries, 18 miles west of Gretna Green. Our 32 en-suite bedrooms have been individually decorated to the highest standards. Tel: 01387 840 201.
hetlandhallhotel.co.uk . DG1 4JX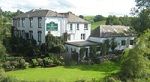 Kenbridge Hotel & Restaurant SC 3 Star, situated just under 1 mile east of the village of New Galloway. The Ken Bridge is a Georgian hotel with a spectacular river bank location close to Loch Ken. Tel: 01644 420 211.
kenbridgehotel.co.uk . DG7 3PR
Mabie House Hotel & Restaurant SC 3 Star, 4 miles south of Dumfries in a country estate. Ideal for weddings, romantic breaks, and family get-togethers. Tel: 01387 263 188.
Website . DG2 8HB . Image
The Manor Country House Hotel & Restaurant SC 3 Star, 4 miles northeast of Dumfries in the small village of Torthorwald. In beautiful private grounds overlooking the ruins of Torthorwald Castle. Tel: 01387 750 555.
manorhotels.co.uk . DG1 3PT
Torrs Warren Country House Hotel & Restaurant VS 3 Star, 5 miles south of Stranraer, 2 miles north of Sandhead. In the village of Stoneykirk, near Luce Bay, in close proximity to beaches at Sandhead. Tel: 01776 830 204.
torrswarrenhotel.co.uk . DG9 9DH
Woodland House Hotel SC 3 Star, 3 miles northwest of Dumfries by the village of Newbridge. Woodland House is an 1841 neo-classical style house converted into a hotel in the early 1960s. Tel: 01387 720 233.
Website . DG2 0HZ
Nith Hotel & Restaurant VS 2 Star, 5 miles south of Dumfries on the East Side of the River Nith at the small village of Glencaple. The hotel has splendid views over Criffel and the Solway Firth. Tel: 01387 770 213.
nithhotel.co.uk . Postcode: DG1 4RE