A guide to Mountains and Hills in Scotland with Links, Images and Reviews.
Hill walking in Scotland is an extremely popular leisure activity with locals and visitors from around the world. There are 283 mountains above 3,000 feet known as Munros, over 4,000 people have now claimed to have climbed them all. Below is the 3,316ft Beinn Ime by Arrochar village.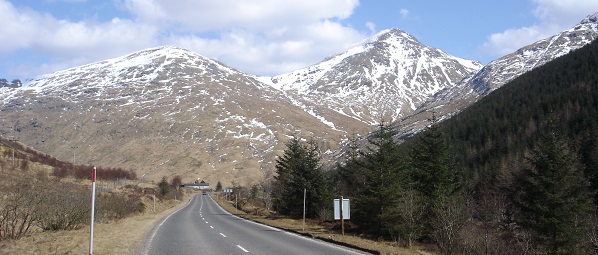 There are 221 hills/mountains between 2,500 & 3,000ft known as Corbetts, and about 1,000 hills about 2,000ft. Most have fairly safe walks to the top and can be completed to the top and back between 3 and 8 hours. The highest Ben Nevis is 4,408 feet.
The links below take you to maps, the map links lead to information and multiple images of hikes/climbs.
The images and info are normally under Walk Reports. When using the maps, click on the red marker for a mountain, then on the mountain name to get to the walk reports for that mountain with info and multiple images.
A list of Scottish Mountains by most climbed with photos: View List.
A click on map showing all the Munros, above 3,000 ft, with images: View Map.
A click on map showing the Corbetts 2,500 - 3,000 ft, with images: View Map.
A click on map showing the Grahams 2,000 - 2,500 ft, with images: View Map.
A click on map showing the Marilyns sub 2,000 ft, with images: View Map.
The only mountain summit that cannot be hiked to, has to be climbed, is Sgurr Dearg, at 3,235 ft, on the Isle of Sky: View Info & Images.
Photo tours of mountains and hills up to 3,700 ft in Central Scotland: View Page.
Photo tours of mountains up to 4,408 ft in the Highlands of Scotland: View Page.
Photo tours of mountains and hills up to 2,800 ft in Southern Scotland: View Page.
Photo tours of mountians up to 3,200 ft in Cumbria northwest England: View Page.
Mountains in Scotland, England & Wales hand picked not to be missed: View Page.
Things to look out for:
Clouds rolling in can make the descent tricky so pay attention to the track you followed up so you can backtrack to lower ground. An Ordinance Survey Map, Compass, or even a Hand Held GPS should be taken. If you are on top of a mountain with no map or compass when it clouds over, you may soon become disorientated and not know which way is north, south, east or west. If this happens, you are supposed to wait until the cloud clears.
Snow and Ice conditions should only be tackled with the correct equipment and know how to use it, such as crampons and an ice axe. Knowing how to use an ice axe to stop a slide, can mean the difference between stopping, and sliding over deadly cliffs. Video.
Overhangs of Ice and Snow can break off when you stand on them, so be careful on ridges and summits with overhangs, as there may be no rock under the ice and snow.
Adders are venomous snakes, up to 2 feet in length, found in the UK from March to October, they hibernate underground in winter. These are the only poisonous snakes in the UK, recognized by a dark zig zag pattern down their back. They vary in colour from the most common brown to reddish, grey and black. They are not normaly aggressive, and it seems nobody has died from an adder bite for over 20 years. Most people bitten by adders have normally been tying to handle them. Hiking boots with thick socks, gaiters or walking trousers are normally enough to prevent a bite should you tread on one. I looked for adders while hiking over 100 hills in 6 months to get photos, and only saw one. It soon disappeared down behind a rock, so did not manage to get a photo. It is not advised to sit in long grass on the hills or mountains. More Information & Images.