Below is a list of the Largest Cruise Ships with Dimensions and links to Large Images. Size is in Gross Regesterd Tons, that is worked out by length, width and height, 100 cubic feet is the equivalent to one Gross Registered Ton. This way ports can work out how much to charge a ship for entry, the larger, the more they pay.
Purpose built Large Cruise ships began entering service soon after the 66,000 ton French Liner SS France was converted to a full time Cruise Ship in 1980, showing the larger the Cruise Ship, the more Profit it made.
Large Cruise Ships are 70,000 tons and above.
The largest Oil Tanker Seawise Giant was 260,000 tons, largest Container Ships are 232,000 tons, and largest Aircraft Carriers around 100,000 tons.
Since around 2018, many new Cruise Ships have been built with a Vertical Bow, claimed to be more efficient than a Pointy Bow, also less likely to plunge in heavy seas.
A Class of Ship on this page is the same Hull Design, with some ships having the same Hull Design, but slightly different Upper Decks.
Large Images of the Cruise Ships listed below.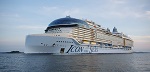 Icon of the Seas
251,000 tons. First of three ships in this class to enter service for Royal Caribbean from 2024, the other two entering service in 2025 and 2026 have yet to be named.
Website . Wiki . Images . 1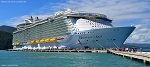 Oasis of the Seas
227,000 tons. First of six ships in this class to enter service for Royal Caribbean from 2009, the others being Allure 2010, Harmony 2016, Symphony 2018, Wonder 2022, and Utopia 2024.
Website . Wiki . Images . 2
MSC World Europa
215,000 tons. First of four ships in this class for MSC from 2022, with World America following in 2024, the others in 2025, and 2027 have yet to be named.
Website . Wiki . Images . 3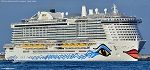 AIDAnova
184,000 tons. Entered service for Aida Cruises in 2018. This type of Ship is classed as an Excellence-Class, with a number of them entering service over the next few years for Aida, Costa, P&O, and Carnival such as Costa Smeralda 2019, P&O Iona 2020, Carnival Mardi Gras 2021, AIDAcosma 2021, Costa Toscana 2021, Carnival Celebration 2022, P&O Arvia 2022, and Carnival Jubilee 2023.
Website . Wiki . Images . 4
Sun Princess
175,000 tons. First of two ships in this class to enter service for Princess Cruises from 2024, the other being Star in 2025.
Website . Wiki . 5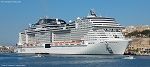 MSC Meraviglia
172,000 tons. First of five sister ships to enter service for MSC from 2017, the others being Bellissima 2019, Grandiosa 2019, Virtuosa 2021, and Euribia 2023. Grandosia, Virtuosa and Euribia are slightly larger at 182,000 tons.
Website . Wiki . Images . 6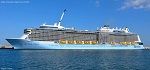 Quantum of the Seas 7
169,000 tons. First of five sister ships to enter service for Royal Caribbean from 2014, the others being Anthem 2015, Ovation 2016, Spectrum 2019, and Odyssey 2021.
Website . Wiki . Images . 7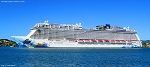 Norwegian Escape
165,000 tons. First of four sister ships to enter service for the Norwegian Cruise Line from 2015, the others being Joy 2017, Bliss 2018, and Encore 2019.
Website . Wiki . Images . 8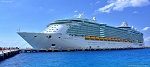 Freedom of the Seas
156,000 tons. First of three sister ships to enter service for Royal Caribbean from 2006, the others being Liberty 2007, and Independence 2008.
Website . Wiki . 9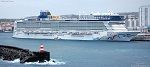 Norwegian Epic
156,000 tons. Only ship in this class to enter service for the Norwegian Cruise Line in 2010.
Website . Wiki . Images . 10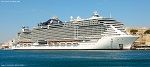 MSC Seaside
154,000 tons. First of four ships in this class to enter service for MSC from 2017, the others being Seaview 2018, Seashore 2021, and Seascape 2022. Seashore and Seascape are slightly larger at 170,000 tons.
Website . Wiki . Images . 11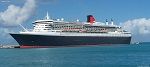 Queen Mary 2
149,000 tons. Only ship of this design that entered service for Cunard in 2004.
Website . Wiki . Images . 12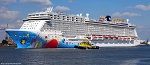 Norwegian Breakaway
146,000 tons. First of six ships in this class to enter service for the Norwegian Cruise Line from 2013 with Getaway 2014, Escape 2015, Joy 2017, Bliss 2018, and Encore 2019.
Website . Wiki . Images. 13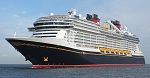 Disney Wish
144,000 tons. First ship in this class to enter service for Disney Cruises from 2022 with Treasure following in 2024 and another in 2025 yet to be named.
Website . Wiki . Images . 14

Norwegian Prima
143,535 tons. First of two ships in this class to enter service for the Norwegian Cruise Line from 2022, the other being Viva in 2023.
Website . Wiki . Images . 15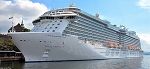 Royal Princess
143,000 tons. First of six ships in this class to enter service for Princess Cruises from 2013, the others being Regal 2014, Majestic 2017, Sky 2019, Enchantment 2020, and Discovery 2022. Britannia is the same design, in the P&O fleet.
Website . Wiki . Images . 16
Voyager of the Seas
139,000 tons. First of five ships in this class built for Royal Caribbean from 1999, with her sister ships being Explorer 200, Adventure 2001, Navigator 2002, and Mariner 2003. Navigator and Mariner differ slightly as they have Glass Balconies on most of their outside Cabins.
Website . Wiki . Images . 17
MSC Fantasia
138,000 tons. First of four ships in this class to enter service for MSC from 2008, the others being Splendida 2009, Divina 2012, and Preziosa 2013.
Website . Wiki . Images . 18
Carnival Vista
134,000 tons. First of five ships in this class to enter service from 2016, with Horizon 2018, Panorama 2019, Venezia 2020, Firenze is in the Costa fleet.
Website . Wiki . Images . 19
Celebrity Edge
131,000 tons. First of five ships in this class to enter service from 2018 for Celebrity Cruises, the others being Apex 2020, Beyond 2022, Ascent 2023 and still to be named ship in 2025.
Website . Wiki . Images . 20
Disney Dream
130,000 tons. First of two ships in this class to enter service for Disney Cruises from 2011, the other being Fantasy in 2012.
Website . Wiki . Images
Carnival Dream
128,000 tons. First of four ships in this class to enter service from 2009, with Magic following in 2011, and Breeze in 2012. Diadema entered service for Costa in 2014
Website . Wiki . Images
AIDAprima
125,000 tons. First of two ships in this class to enter service from 2016 for Aida Cruises, with AIDAperia entering service in 2017.
Website . Wiki . Images
Celebrity Solstice
122,000 tons. First of five ships in this class to enter service for Celebrity Cruises from 2008, the others being Equinox 2009, Eclipse 2010, Silhouette 2011, and Reflection 2012.
Website . Wiki . Images
Diamond Princess
116,000 tons. First of seven ships in this class to enter service from 2004 with her sister ships Sapphire 2004, Crown 2006, Emerald 2007, and Ruby 2008. Ventura 2008, and Azura 2010, entered service with P&O.
Website . Wiki . Images
Scarlet Lady
110,000 tons. First of four ships in this class to enter service for Virgin Voyages from 2020, the others being Valiant Lady 2021, Resiliant Lady 2023, and Brilliant Lady 2023.
Website . Wiki
Carnival Conquest
110,000 tons. First of six ships in this class to enter service for Carnival from 2002, the others being Glory 2003, Valor 2004, Liberty 2005, Freedom 2007, and Splendor 2008. Four of these ships also entered service for Costa, Serena 2007, Pacifica 2009, Favolosa 2011, and Fascinosa 2012.
Website . Wiki . Images
Grand Princess
109,000 tons. First of four ships in this class to enter service for Princess Cruises from 1998, the others being Golden 2001, Star 2002, and Caribbean 2004. Grand Princess had her Spoiler Lounge at the rear removed in 2011, said to be for reducing weight as she rode bow high. This also gave her a more sleek modern look. Star and Golden have been sold to P&O Australia.
Website . Wiki . Images
Carnival Destiny
101,000 tons. First of three ships in this class to enter service for Carnival from 1996, the others being Triumph 1999, and Victory 2000. Destiny was renamed Sunshine in 2013, Triumph renamed Sunrise in 2019, and Victory renamed Radiance. Two of these ships also entered service for Costa, Fortuna in 2003, and Magica 2004.
Website . Wiki . Images
Koningsdam
100,000 tons. First ship in this class to enter service for the Holland America Line in 2016 followed by Nieuw Statendam 2018, and Rotterdam 2021.
Website . Wiki . Images
Mein Schiff 3
99,000 tons. First of four ships in this class built for TUI Cruises from 2014, the others being Mein Schiff 4 2015, Mein Schiff 5 2016, and Mein Schiff 6 2017. Mein Schiff 1 2018, and Mein Schiff 2 2019 are larger at 111,000 tons with some extra decks.
Website . Wiki . Images
Celebrity Millennium
91,000 tons. First of four ships in this class that entered service for Celebrity from 2000, the others being Infinity 2001, Summit 2001, and Constellation 2002.
Website . Wiki . Images
Norwegian Star
91,000 tons. First of six ships in this class to enter service for the Norwegian Cruise Line from 2001, the others being Dawn 2002, Jewel 2005, Jade 2006, Pearl 2006, and Gem 2007.
Website . Wiki . Images
MSC Musica
90,000 tons. First of four ships in this class to enter service for MSC from 2006, the others being Orchestra 2007, Poesia 2008, and Magnifica 2010.
Website . Wiki . Images
Radiance of the Seas
90,000 tons. First of four ships in this class to enter service for Royal Caribbean from 2001, the others being Brilliance 2002, Serenade 2003, and Jewel 2004.
Website . Wiki . Images
Coral Princess
88,000 tons. First of two ships in this class built for Princess Cruises from 2003, the other being Island 2003. This class of ship was designed to be able to use the Panama Canal Locks.
Website . Wiki . Images
Carnival Spirit
88,000 tons. First of five ships in this class built for Carnival from 2001, the others being Pride 2002, Legend 2002, Miracle 2004, and Luminosa 2009. Three of these ships were built for Costa, Atlantica in 2000, Mediterranea 2003, and Luminosa 2009. Two of these ships were built for Cunard, Queen Victoria 2007, and Queen Elizabeth 2010. One was built for P&O as their Arcadia in 2005. Four were built for the Holland America line, Zuiderdam 2002, Oosterdam 2003, Westerdam 2004, and Noordam 2006. These ships were designed to use the Panama Canal Locks. Some have an extra deck on the top, at the front.
Website . Wiki . Images
Disney Magic
83,000 tons. First of two ships in this class built for Disney Cruises from 1998, the other being Wonder in 1999.
Website . Wiki
Pride of America
81,000 tons. Only ship in this class completed for the Norwegian Cruise Line in 2005.
Website . Wiki
Norwegian Sun
78,000 tons. One of three ships in this class that entered service for the Norwegian Cruise line in 2001. The other two ships are Sky 1999, and Costa Victoria 1996. Sky was originaly Costa Olympia then Pride of Aloha.
Website . Wiki
Celebrity Century
72,000 tons. First of two ships in this class to enter service for Celebrity from 1995, the other being Galaxy 1996 that had been enlarged to 77,000 tons. Both ships were sold to smaller cruise lines from 2009.
Website . Wiki
Sun Princess
77,000 tons. First of four ships in this class to enter service from 1995 for Princess Cruises the others being Dawn 1997, Sea 1998, and Ocean 2000. Dawn Princess is now P&O Pacific Explorer, the others have been sold to smaller companies.
Website . Wiki
P&O Aurora
76,000 tons. Only ship in this class that entered service for P&O in 2000.
Website . Wiki . Images
Norwegian Spirit
76,000 tons. First of two ships in this class built for Star Cruises from 1998 as SuperStar Leo, the other being SuperStar Virgo 1999. Leo was transferred to the Norwegian Cruise line in 2004 as their Spirit.
Website . Wiki
Grandeur of the Seas
74,000 tons. One of six ships in this class to that entered service for Royal Caribbean in 1996, the others being, Enchantment 1997, Rhapsody 1997, Vision 1998, Legend 1995, and Splendour 1995. Legend and Splendour have been sold to smaller companies.
Website . Wiki
Sovereign of the Seas
73,000 tons. First of three ships in this class to enter service for Royal Caribbean from 1988, the others being Monarch 1991, and Majesty 1992. These were the first purpose built cruise ships over 70,000 tons, large class. Sovereign and Monarch were scrapped in 2020. Majesty is operated by Seajets.
Website . Wiki
Celebrity Century
71,000 tons. First of three ships in this calls to enter service for Celebrity Cruises from 1995, the others being Galaxy 1996, and Mercury 1997. All three ships have been sold to smaller cruise lines.
Website . Wiki
AIDAadiva
70,000 tons. First of seven ships in this class to enter service for Aida Cruises over six years from 2007, the others being Bella 2008, Luna 2009, Blu 2010, Sol 2011, Mar 2012, and Stella 2013.
Website . Wiki
Crown Princess
70,000 tons. First of two ships in this class to enter service for Princess cruises from 1990, the other being Regal in 1991. These ships were sold a number of times. Crown was scrapped in 2021. Regal joined the Ambassador Cruise Line as their Ambience in 2022.
Website . Wiki
Crystal Serenity
69,000 tons. Only ship in this class that entered service for Crystal Cruises in 2003.
Website . Wiki