Below is a list of the Largest Treasure Finds from around the world, listed in order of most valuable.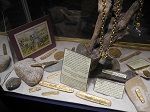 Nuestra Senora de Atocha
Value - $400 million
In the early 1970s, Mel Fisher discovered the Spanish shipwreck Nuestra Senora De Atocha off the Florida Keys. The treasure includes 24 tons of silver bullion, 125 gold bars and discs, and 1,200 pounds of silverware.
This ship sank during a hurricane in 1622, loaded with Gold and Silver plundered from south America.
Fisher and his son began searching for the treasure in 1969, finding the first of the treasure in 1973, then the main load in 1975.
Large Image from the Mel Fisher Museum of Gold found from Spanish ships.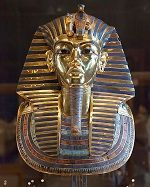 Tutankhamun
Value - $26 million
Howard Carter discovered the tomb of Tutankhamun - KV62, in November 1922, in an area of Egypt known as the Valley of the Kings.
This was where many Egyptian Kings had been buried, but most had been robbed centuries back.
The Gold Death Mask is valued about $2 million, and the Gold Coffin about $1.7 million in gold alone.
All the objects found in the Tomb are insured for $26 million.

Sutton Hoo
Value - £3.3 million
Excavations of Mounds near Woodbridge, in Suffolk /England began in 1938, leading to the discovery of two medieval cemeteries dating around 500 AD.
The burial chambers contained many objects with Gold such as helmets and buckles.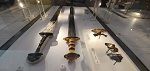 Staffordshire Hoard
Value - £3.3 million
This Hoard was discovered by Terry Herbert in 2009, a member of a Metal Detecting Club that was searching a ploughed field in Staffordshire / England.
The excavation that followed uncovered over 3,500 objects, many of them gold.
These objects are claimed to be of Anglo-Saxon origin, dated to around 650 AD.
Parts of the Staffordshire Hoard can normally be viewed at the British Museum in London, and Stoke on Trent Potteries Museum, with it also being displayed in Museums around the world when on loan.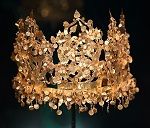 Tillya Tepe
Value - $500,000
Tillya Tepe is a number of burial mounds excavated in 1978, in the area of northern Afghanistan.
The Hoard is made up of 20,600 artifacts such as crowns, ornaments and coins.
The Hoard was discovered in a number of burial mounds, dating between 90BC to 30AD.
The Gold weighs about 7 Kilos, about $500,000 in value, but is said to be priceless as has so much historical value.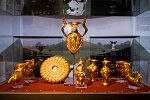 Panagyurishte Treasure
Value - $500,000
The Panagyurishte Treasure was discovered in Bulgaria in 1949 by three brothers who were clay digging for pottery.
The gold objects weigh over 6 Kilos, claimed to be some of the top gold artifacts ever found, dated to around 300BC.
Although the gold value is around $500,000, this is regarded as one of the most valuable finds ever.