A list of Golf Courses that welcome visitors in Argyll Scotland.
The Reviews/Offers links give reviews and may give cut price offers such as: Accommodation and Golf combined.
Prices listed are only a guide to a round in summer, autumn, spring & winter prices can be up to half price.
Many clubs offer discounts for parties and rounds with catering included.
Click on Post-Codes for Maps, Directionsn and Reaviews.
Top Touring Courses: used to host The Open or other Major Tournaments.
Loch Lomond Golf Club parks course 22 miles northwest of Glasgow by Luss. You may need to be on a long waiting list, or know a member to play this course. 7,100 yards par 72. Tel: 01436 655 555. Price guide £- -
Website . G83 8NT . Reviews
Grade One Courses: almost as good as the Top Touring Courses with excellent facilities.
The Carrick parks course 20 miles northwest of Glasgow. A world class 18 hole golf course along the banks of Loch Lomond, 3 miles north of the town of Balloch. 7,082 yards par 71. Tel: 01389 727 679. Price guide £45 - £85 ?
Website . G83 8RE . Reviews/Offers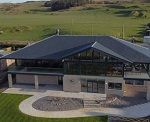 Machrihanish Golf Club links course 5 miles west of Campbeltown. An internationally known 18 hole golf course, a 9 hole Ladies course with Ladies clubhouse and 2 large practice areas. 6,225 yards par 71. Price guide about £30 - £65 round. Tel: 01586 810 277.
Website . PA28 6PT . Reviews/Offers
Grade Two Courses: Less formal & less expensive than Grade One Courses, but still excellent courses.
Cardross Golf Club parks course 23 miles northwest of Glasgow. Generous fairways and Large deciduous trees and a large clubhouse with excellent catering. Situated 4 miles west of Dumbarton. 5.469 yards par 71. Price guide about £22 - £37 round. Tel: 01389 841 754.
Website . G82 5LB . Reviews
Glencruitten Golf Course parks course on the east side of Oban. Glencruitten Golf Course is a James Braid design among the scenic hills of Glencruitten Estate. 4,452 yards par 62. Price guide £30 day. Tel: 01631 562 868.
Website . PA34 4PU . Reviews
Helensburgh Golf Club moorland course 31 miles northwest of Glasgow. A testing, scenic moorland course with many natural hazards and excellent clubhouse and facilities. 6,058 yards par 69. Price guide about £15 - £35 round. Tel: 01436 674 173.
Website . G84 9HZ . Reviews
9 Hole Courses
Blairmore and Strone Golf Club parks course 40 miles northwest of Glasgow by Dunoon. A Braid designed course with views over Loch Long and the Firth of Clyde, 2112 yards par 31. Price guide about £10. Tel: 01369 860 307.
Website . PA23 8TG . Reviews
Dalmally Golf Club parks course 25 miles east of Oban, 67 miles northwest of Glasgow. A peacful nine hole course amongst some of Scotland's most breathtaking scenery. 2,277 yards par 32. Price guide about £20. Tel: 01838 200 619.
Website . PA33 1AE . Reviews
Inverary Golf Club parks course 60 miles northwest of Glasgow with great views over Loch Fyne. Oened in June 1993. 2,814 yards par par 35. Price guide about £15. Tel: 01499 302 511.
Website . PA32 8XT . Reviews
Lochgilphead Golf Club parks course 37 miles south of Oban. A scenic 9 hole course in the hills of Mid Argyll. 2,056 yards par 33. Price guide about £15 - £25. Tel: 01546 602 340.
Website . PA31 8LE . Reviews
Taynuilt Golf Club parks course 12 miles east of Oban
A challenging 9-hole parkland course with close to the base of Ben Cruachan mountain with stunning views up Loch Etive. 2,255 yards par 32. Price guide about £12 - £20. Tel: 01866 822 429 .
Website . Postcode: PA35 1JH